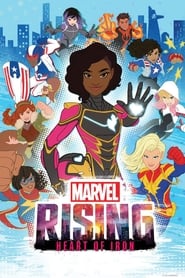 Marvel Rising: Heart of Iron
Ironheart, AKA Riri Williams, is having difficulty adjusting to college life as the youngest student there when the college's engineering lab is demolished by an alien and her best friend is kidnapped. Inspired by Iron Man, she develops a plan to save her friend.
Marvel Rising: Secret Warriors
Marvel Rising: Secret Warriors When a threat no one could have expected bears down on the Marvel Universe, this ragtag, untrained band of teens have no choice but to rise together and prove to the world that sometimes the difference between a 'hero' and 'misfit' is just in the name.